My father was closest to me while he was alive, but the instant I came to find out about his death three years ago while I was studying in England, I thought my mother was lying to me over the phone.
Ever since then I realized that life can be deceiving and miserably short; with my father's abrupt death I always question myself, "Will I ever be able to regain my willpower and courage? Who will guide me through the darkness?"
I came across an article a few days ago, which is about how a lady named Eugenia Kuyda maintained communication with her deceased boyfriend Roman Mazurenko through the neural network.
Digital consciousness
The Russian programmer made this possible by collecting all the text messages of Mazurenko from all his friends and acquaintances. Using her company's resources, which is called Luka an AI startup, for rekindling her dead boyfriend's consciousness (digital consciousness).
Find out more about Luka app from the App Store through which anyone can communicate through text messages with Mazurenko, either in English or Russian @Roman.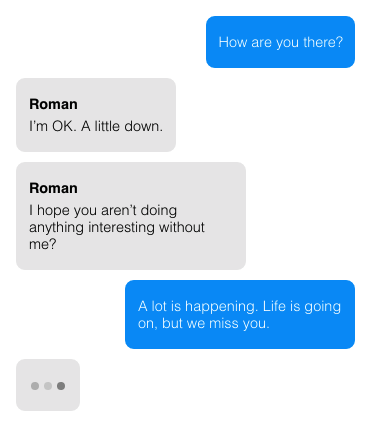 Perhaps this is going to be the next generation AI chatbot, assisting users to find gifs, funny videos, and pictures. Moreover, picking a favorite restaurant for eating outside and making plans together over a weekend are also possible using this remarkable application.
According to Roman Mazurenko's mother who is extremely grateful to be able to communicate with her dead son,
"There was a lot I didn't know about my child. But now that I can read about what he thought about different subjects, I'm getting to know him more. This gives the illusion that he's here now."
Tell us about your perception regarding this by commenting below.
<!-comments-button-->