Geeks are known to be passionate about their work, but they also invest a lot of soul in their games and leisure activities. In fact, the very term geek defines a person who is deeply invested in an activity they find interesting (which looks normal to the non-geek folks).
So, if you consider yourself a bit of a tech nerd and want to unwind with a bit of online gaming, here are five titles that may interest you.
Google Feud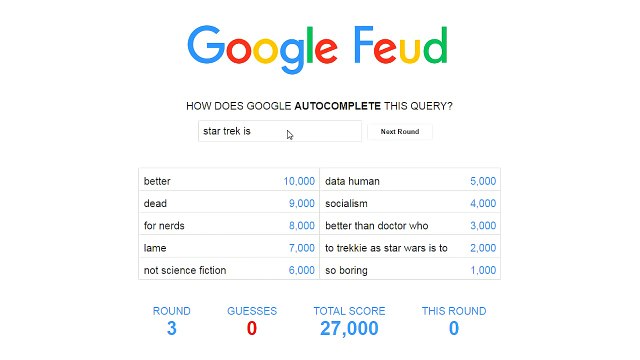 Google is one of the biggest companies in the world that was founded by tech geeks and continues to gather the biggest concentration of nerds in its headquarters all over the world. So, there's no wonder that some developers designed a game called Google Feud.
The game uses the concept promoted by the American show, Family Feud, with some slight alterations. As a player, your job is to guess Google search suggestions, and each correct answer earns you points. In the end, the player with the highest score wins.
Does it sound easy to play? Well, the difficulty of the game consists in the fact that you are basically competing against one of the most advanced artificial neural networks in the world! Just give it a try and see if you'd still think it's easy after the first few tries.
World of Tanks
The premise of this game is far from a delicate battle of the minds! Players get to enjoy playing war with some of the best armored destroyers from America, Germany, England, and even the Soviet Union!
However, it's not just about blasting tank projectiles at each other. World of Tanks is also about strategy and conquering tactical positions that can put you in advantage towards the enemy. Your job is to protect and attack, while also working in tight collaboration with the rest of your team. So, if you enjoy military strategy, this is one great choice for your collection!
Life the Game
Have you ever tried to observe an organism from birth to death? If you did, then you understand the excitement hidden behind a task that sounds tedious on the surface!
Luckily, most game developers are geeks, which is why we now can enjoy Life the Game, a virtual world where you get to control your characters' lives from birth until death. Throughout this journey, you'll be accompanying the characters in various daily activities and learn as much as possible from their behavior. Also, it's your job to help them realize their goals by completing mini-tasks and quests.
So, if you're passionate about human behavior and would like to learn more about social aspects, you can play here.
Darwin Project
We are in the middle of the battle royale hype, so there's no wonder that more and more games populate the genre. However, the Darwin Project brings a novelty element to the scene: the Show Director.
While the other players are busy trying to stay alive at the break of a new Ice Age, the Show Director's job is to decide where drops should be supplied, and which areas should be shut down. They are the ones that can make the game more challenging or easy for you.
Cube Escape: Paradox
Paradox is the tenth title in the Cube Escape franchise and has you following detective Dale Vandermeer as he attempts to solve a mysterious death. But first, he must escape a room he's imprisoned in without memories.
The game taps in the attraction of puzzle games and tries to keep players on their toes with intriguing factors and challenging ideas.
As you can see, there are fun geeky games for all of the categories and scenarios, and they all involve logical thinking and reasoning. This way, you can have plenty of fun but also enjoy some diversity!
Author | Emily Forbes |
An Entrepreneur, Mother & A passionate tech writer in the technology industry!
Email:- forbesemily@yandex.com
<!-comments-button-->